Engine overhauling gaskets
masterkit
Reliable sealing for your engine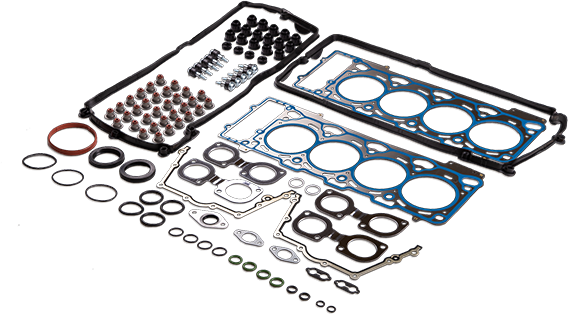 The most state-of-the-art materials are used for the sealing production: high-quality nitrile butyl rubber (NBR - Nitrile Butadiene Rubber or Buna N), as well as the silicone for molded products that retains elasticity in a wide temperature range, special stainless steel for the gaskets between the block and the head of the cylinder block and exhaust manifolds, multilayer high-temperature materials for sealing the exhaust gas system channels (for the exhaust system).
MasterKit has more than 150 gasket kits for internal combustion engines and over 300 cylinder head gaskets in its stock.
The range is constantly updated. All gaskets are produced in accordance with the requirements of motor manufacturers.

For most engines, MasterKit offers separate gasket kits for the cylinder heads (cylinder head gasket kits) - the upper set, as well as a complete gasket kit for the entire engine.

The MasterKit gasket kits include the following components:
- cylinder head gaskets;
- valve cover gaskets;
- engine sump gaskets;
- gaskets for the front and rear engine covers;
- gaskets for the oil heat exchangers and oil filter housings;
- gaskets for the channels and lines of the engine lubrication system;
- gaskets for the pump (pump of the cooling system);
- gaskets for the thermostatic element cover and thermostatic element housing;
- gaskets for the flanges and pipes of the engine cooling system;
- inlet pipe gaskets (intake manifold);
- exhaust pipe gaskets (exhaust manifold);
- radial lip seals (gland seals of the camshafts and crankshafts);
- lip seals for the inlet and outlet valves (valve stem seals);
- fuel injector seals (MPI);
- gaskets and seals for the turbochargers;
- O-rings made of metals and polymeric materials.